🔥 Crunch #036: Dashboards for Engineering Leaders, Magical Visuals and Branding With No Effort
Bite-sized startup insights trusted by the industry leaders
Trevor here. As always, here are two startups worth checking out. If you enjoy the newsletter, please show love to the sponsors, since they help to fuel this newsletter.
---
🇺🇸 Okay: Actionable, plug-and-play dashboards for engineering leaders. (Founded 2019, Total Funding Amount: 2.4M seed)
How it works
Okay connects with the tools where your engineers already work. It also provides dashboards and insights that help you lead a high-performing team.
The
Team
Based in San Francisco, US, co-founded by Antoine Boulanger and Tomas Barreto.
Antoine has led teams from 5 to 150 engineers in startups and big tech companies. Tomas worked as the VP of Engineering at a publicly traded company, Box.
The backstory
We made Okay because, as software engineers and then as managers, we were shocked by the lack of visibility into the bottlenecks that slow engineering teams down.
We decided to build an analytics tool on solid foundations — focusing on team signals as opposed to big-brother style monitoring of individuals, and giving our users the same amount of querying power they would expect from an APM or telemetry tool. — Antoine Boulanger, Co-founder and CEO @Okay
---
Sponsored By
This post was brought to you by Leave Me Alone.
Leave Me Alone reduces your overflowing inbox into just a handful of email digests, curated by you and delivered on your schedule.
---
🇬🇷 MagicPattern: From branding products to building websites, MagicPattern gives you the creative power to amaze your clients. (Founded 2020, Total Funding Amount: bootstrapped)
Here's what MagicPattern users have to say about the product.
How it works
MagicPattern generates unlimited high-quality background graphics for your clients and your products.
The Metrics
MRR: $1.1k/mo

Daily Active Users: 100-200 users

Paid Users: 276

Registered Users: 20k
The
Team
Founded by Jim Raptis, who is based in Greece. Jim is a full-time indie hacker and creator. He builds, launches, and grows products all by himself.
Previously, Jim co-founded VisualEyes (a VC-backed company) along with 3 co-founders. Building VisualEyes helped him learn many valuable entrepreneurial lessons that assisted him on the indie hacking journey.
The backstory
I've been designing websites, graphics & marketing assets for over 8 years now. And I found it's difficult to create an engaging background even if you're a pro designer.
So, I started experimenting with generative art and SVG graphics to solve this problem with creative coding.
WOW!!! 🔥 I'm #1 on the
indieleaders.xyz/leaderboard
. Thank you for your support Twitter friends. PS. Love your app
@88media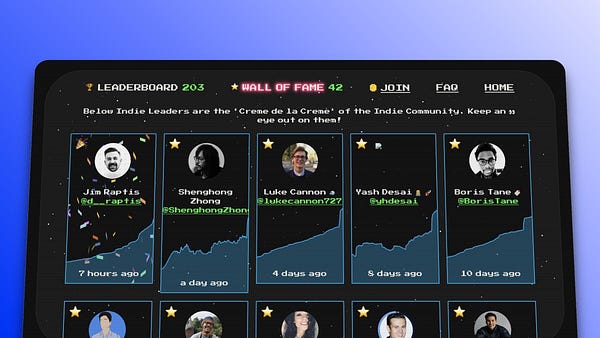 The long-term vision for MagicPattern is to dominate the no-design world. Helping people (creative or not) to create amazing graphics is my number one goal.
---
🚀 Submit Your Startup
I'm always open to working with all types of founders, no matter their ethnicity, gender, origin, or socio-economic background.
Please fill in this form if you want me to review your startup and product. Feel free to connect with me on LinkedIn as well.
As a rule of thumb, I look at startups that have at least built a minimal viable product.
I look for strong positive signals using the FPTM model: Founders — Product — Traction — Mission.
---
🏁 You're all set!
Startups Crushing It! is a premium newsletter about early-stage (before series A) technology startups. I publish the insights each Tuesday or Friday.
You tell me which startups excite you. And if requested, I'll introduce you to the founders.
I look for strong positive signals using the FPTM model: Founders — Product — Traction — Mission.
I interview the founder(s), toy around with products, crunch numbers, and based on that, I decide which startups to feature.
If you want more, you can dig through the archives for the previous digests.
Support me by forwarding it to a friend, and let them know they can subscribe here.